FINALLY, a fun and educational program that reveals and explains songwriting secrets & concepts that will help Songwriters, Recording Artists, Lyricists, & Music Producers get results in today's competitive music industry.

Hit songwriter & producer Bobbi "Funkee Boy" Tammaro takes you on a journey into the creative world of songwriting with actual footage from his songwriting and music production workshops.

This interactive program is easy to follow and allows you to participate in the songwriting exercises right along with the workshop attendees.

Lyric writing & melody exercises are thoroughly explained to help clarify, inspire, & educate you to the Do's & Don'ts of writing songs for increased exposure and to widen your audience.

Bobbi reveals the many secrets & concepts that he utilizes to write and produce International Top-15 hits, as well as, writing songs for television and film.

The songwriting exercises and concepts in this program are for real & can be applied to any song in all genres of music. So it doesn't matter if you are writing Pop, R&B, Rock, Latin, Adult Contemporary, Country, Jazz, etc. This program will elevate your songwriting skills and get results with your music.

NOW available in Audio Book CD also!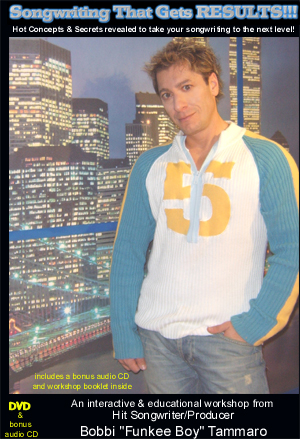 "It doesn't matter if you are a beginner, intermediate, or an advanced songwriter you will absolutely benefit from Bobbi's DVD on songwriting."

Sterling G,
Hit Producer, UPN Network Urban Music Supervisor

"Bobbi's energy is electrifying... He delivers clear, concise information & the camera loves him."


Laurie Hodges, founder Cubedsquared Entertainment